2018 September Newsletter
September 2018
Fall 2018 President's Message
Greetings Dear members, hope you had a wonderful summer.
We'd like to welcome you to a new year of great events and gathering. My name is Mitra Nafisi. Sheila Pouraghabagher and I are the new Co-Presidents of the Cal Poly Women's Club. We are sure proud to be accompanied by these amazing group of women and excited about where we are headed.  This is our first newsletter of the 2018-19 that contains an overview of our activities and calendar of events. Your Board of Directors have met during summer to plan events and activities to bring a fun and productive year to our club. We'd like to thank them for their time and their contributions.  We are very pleased to welcome you and look forward to seeing you all in our Annual Fall Reception, cordially hosted by Sharon Armstrong on Saturday, September 15, 2018 from 10:00 to 12:00 noon at her campus residence.
Sincerely,
Mitra Nafisi and Sheila Pouraghabagher
CPWC Co-Presidents 2018-2019
News and Announcements
1. In Memoriam
The CPWC was saddened to learn of the death of longtime member, Carol Judd. Carol passed away on April 27, 2018 at the age of 101! Carol was active in our Club and served as a Board officer and as newsletter editor for 28 years! A memorial service was held in June. Contributions may be made in her memory to the French Hospital Foundation.
2. Kudos
Congratulations to members India D'Avignon and Jennifer Klay on their promotions to Professor.
3. SAVE THE DATES!
Sept. 15, 2018 -The Fall Reception will be held at President and Mrs. Armstrong's residence on campus from 10am – 12pm.  As in previous years, we are accepting donations at the reception for the ASI Children's Center Scholarship.  Bring your generosity!
Dec. 11, 2018 – The Holiday Party will be held at the SLO Country Club beginning with a Social Hour at 6pm. There will be more information in upcoming newsletters.
April 5, 2019 – The General Meeting, Election of Officers will be held at the downtown Cal Poly Alumni Center at 5:30 pm. There will be more information in upcoming newsletters.
May 4, 2019 – The May Luncheon and Installation of Officers will be held at the SLO Country Club from 11:30 am–2pm. Stay tuned for more info.
June 1, 2019 – The June Coffee will be held at the Cal Poly Arboretum. There will be more information in upcoming newsletters.
4. Newsletter Availability
Our newsletter, "The Flyer", is available electronically.  Please email Elaine Ramos Doyle at emrdmom@gmail.com if you would prefer to receive your newsletter via email.  This will save the Club money as well as helping to save the environment!
5. Reminder - Membership Dues
Don't forget to pay your membership dues!  If you forget to pay at the Fall Reception, you can send your $25 dues to Treasurer Elaine Ramos Doyle, 2381 Claranita Ave., Los Osos, CA 93402.
6. Fundraisers
The CPWC Scholarship Fund will benefit from Adopt-A-Poll again for the Midterm General Election.  During the Primary Election in June, the CPWC received $553! Volunteer now for the General Election to be held on Nov. 6, 2018. Polling place will again be held on campus. A minimum 3 hr. shift is required, and you must be able to verify that you are a registered California voter. Please contact Val Barboza at 264-5901 to volunteer or if you have questions.
7. Scholarships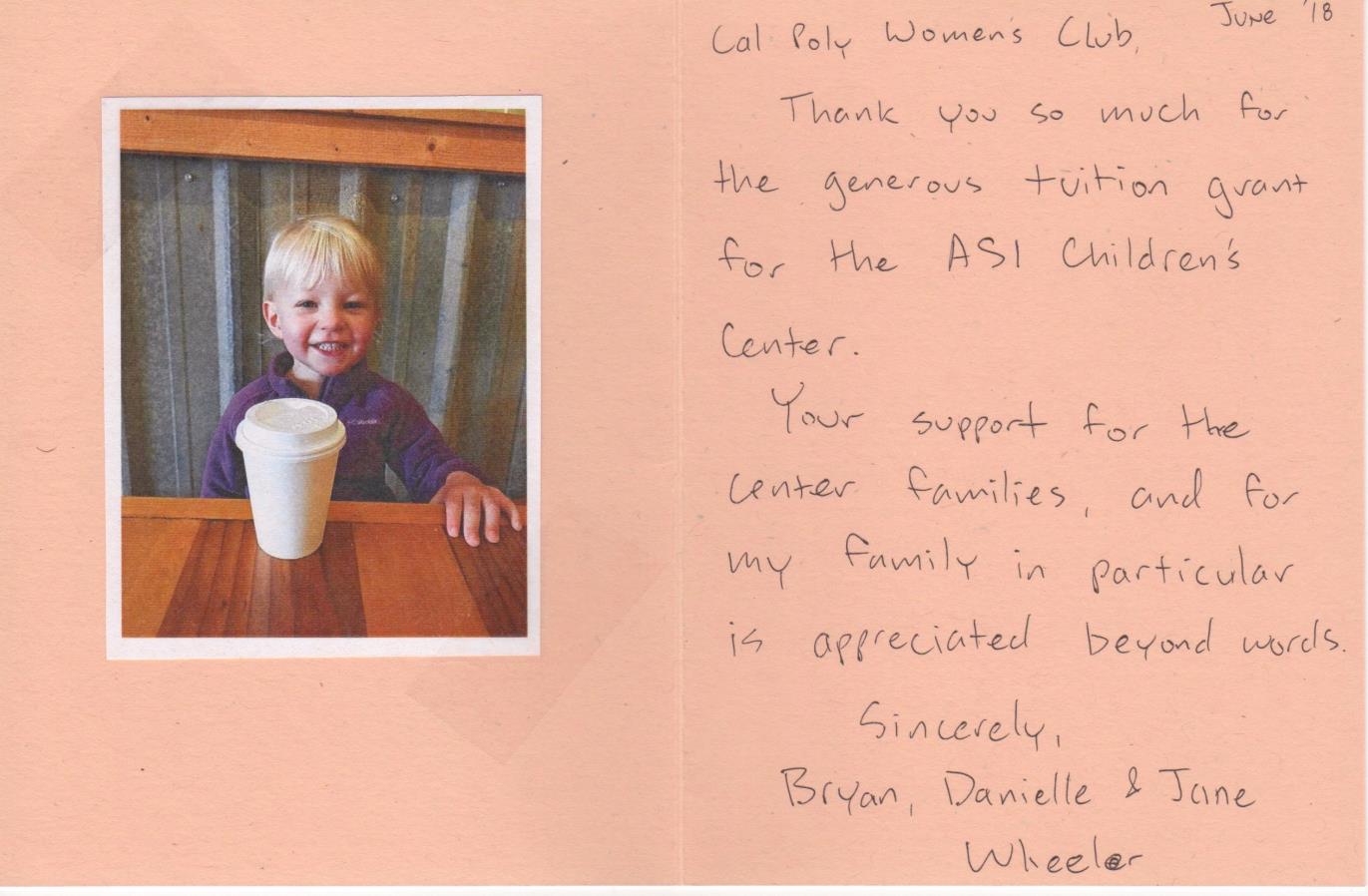 The Orfalea Family and ASI Children's Center scholarship of $500 each was awarded to two student-parents: Tim Connely (on the left) and Bryan Wheeler (on the right).  Tim is a Psychology major and plans to receive his Bachelor's degree in March 2019.  Bryan is a Civil Engineering major and plans to receive his Master's degree also in March 2019. Past Co-Presidents Val Barboza and Chris Hoover and ASI Children's Center Director Tonya Iversen presented the checks to the two student-parents in June.
Section News for September
AMBASSADORS                                                            Meets as arranged
                                                                                    Alice Loh 543-9055
                                                                    Tracy Kinderknecht 756-5803
DINE AROUND                                               Meets quarterly as arranged
                                                                                 Lois Butler 234-4343
GARDEN GROUP                                                            Meets as arranged
                                                                               Patrice Iqbal 547-1993
GOLF
Saturday, Sept. 22nd @ 9am at the Laguna Golf Course. Golfers, all levels , are
invited to join in the fun! Please RSVP to Louise Torgerson by Sept. 18.
                                                                        Louise Torgerson 756-7041
LUNCH BUNCH
Meets second Monday of the month at 12 noon, but no meeting in September.
                                                                               Judy Connely 543-5919
                                                                                  Jan Regan 543-2978
NEEDLEWORK-KNITTING-CRAFTS
Meets first Monday of the month at 10 am, but no meeting in September.
                                                                                   Carol Huff 541-1589
PROFESSIONAL WOMEN                                 Meets monthly as arranged
                                                                   Tracy Kinderknecht  756-5803
TRAVEL                                                                                                     
Meets fourth Thursday of the month at 2 pm, but no meeting in September.
                                                                                      Pat Cano 543-6210
                                                                          Janis Stansfield 543-7901
WALK                                                                                                       
Saturday, Sept. 29th @ 7:30 am at Laguna Lake Park is the Making Strides Against Breast Cancer walk. RSVP or call Val Barboza for more information.
                                                                                 Val Barboza 264-5901
Related Content